Thai Soup
166 E 118th St, New York, NY 10035
Order now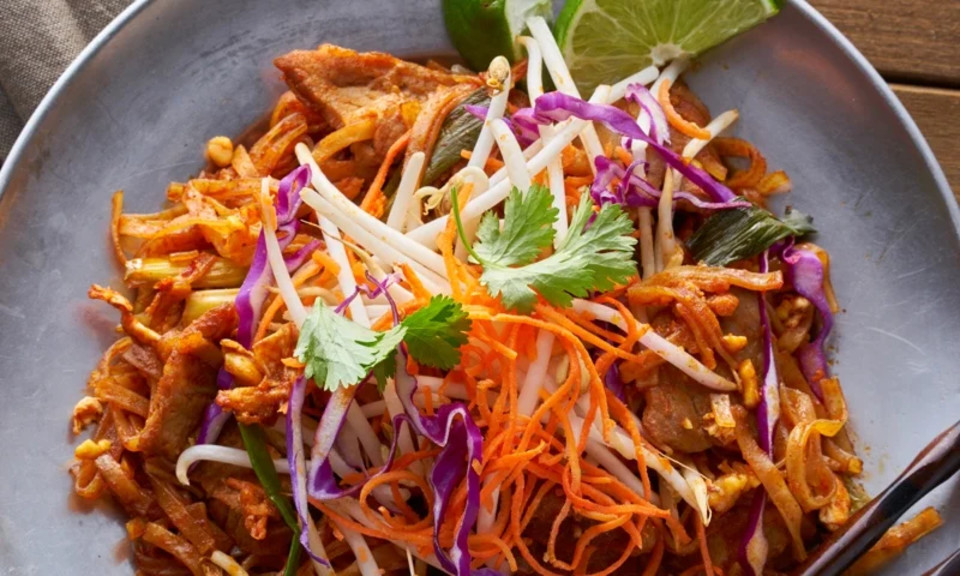 Amber
Never had the Tom Yup soup Before but I will order it again it came with about six pieces of large shrimp fresh ginger and about three bay leaves it was a very well seasons and spicy medium spicy soup I got a medium size it was enough to share but I did not it was absolutely delicious and for a good price will definitely be ordering again free delivery delivery man came all the way to the fifth floor
Ash
The Massam Curry and Roti recipe has changed and no longer is served like a curry broth but rather a cool curry potato mash. All our other food was fantastic but I wish they updated their photographs to indicate the preparation style. Unfortunately, I will no order this dish anymore in the new style of preparation.
Javonne
Great tasty food. The staff and owner is especially nice as I requested a specific change to my order that wasnt done once I received my delivery. It was minor so I decided not to call and complain, minutes later I had a new meal at the door with the request that I had asked for. Thanks Thai soup.
Sarah
This is my favorite Thai spot in the city. Their duck roll is very tasty. My boyfriend loves that "spicy" means sweat-inducing. I like medium, myself. I didn't have the salmon soup but he said it was awesome. 5 pieces of salmon is really good value. My favorite thing? They cook the tofu perfectly.
KARENA
I've gotten food from here a few times and it's always great. Can be pricey but its always worth it. The location is really small and the waiting area is always filled with supplies - it's hard to stand in there. I always order ahead to avoid having to hang out longer then 3mins.
Wachara
Let's me tell you abt the real story from last night. I do not like to do this much but if that person not telling the true whole story. I have to stand out for it. I do understand that you were so upset from last night that my delivery guy switched the food and send it to another customer by accident. I do apologize for that. At the same time you give me a call and asking abt ur order. I have 1 customer give me a call 1 mins right before you said they got somebody food and he claimed that he didn't open yet coz the receipt is attached on the order. Right away I called to my delivery guys to let him know abt it. He's heading back to pick up the food and resend for you. After that I give you a called to let you know abt it with my professional service. When you pick it up the phone you said you not trust the food from the customer no matter he claimed that he didn't open. I offer you to make a new one and resend it again. You denied it coz you said you not trust my word that am going to make a new one for you. Then you request a refund and asking when will you get the money back. I said it's going to take a few business day.! After I request the refund for her. It's the weekend!!!!!!!! Are you sure I didn't say sorry at all. I went to school too.
Heather
Delivery is pretty quick which I like about this place. The delivery guy is lazy though and doesnt even buzz my apt. He doesnt even come inside the gate, let alone up to my apt. He calls and expects you to not only go downstairs and get your food, but to go outside because he cant be bothered to come to the door. Pure laziness. Definitely tipping less next time.
The food is always fresh. The scallion pancakes are really delicious and have a crunch to them! This is why I keep ordering from them.
James
I regretted ordering a small tom kha gai soup it was so delicious I wanted more! The spicy pad Thai was packed with flavor- the spicy is not hot. Having celiac, I appreciate the GF options on the menu. This was my 1st order from Thai Soup while cat sitting. I live in HK- where the trend in Thai food is Sweet. Pad Thai over loaded with chunks of pineapple- no thank you.
Looking forward to ordering again- please consider opening up in Hells Kitchen.
Elizabeth
This place is sooooo delicious. Compared to the average uptown Asian food delivery, this is so far above and out of their league, it's not even funny. Well-balanced flavors. Fresh tasting. Not greasy. Crispy, delicate, delicious. Not as spicy as some Thai, though. Harlemites who are used to throwing hot sauce on everything should ask for it extra spicy.
Benjamin
Thai Soup is our go-to Thai place in the area. Coming from Sydney I've been spoiled for choice when it comes to southeast Asian cuisines. NYC Thai has generally been a bit of a let down in comparison, but Thai Soup stand as a solid option in the area, and we've ordered from there reliably over half a dozen times. Would love a choo chee on the menu!
About us
Asian, Dinner, Lunch Specials, Thai
Today

Delivery: 11:00 AM - 10:15 PM

Takeout: 11:15 AM - 10:15 PM

Delivery

Monday:

11:00 AM - 10:15 PM

Tuesday:

11:00 AM - 10:15 PM

Wednesday:

11:00 AM - 10:15 PM

Thursday:

11:00 AM - 10:15 PM

Friday:

11:00 AM - 10:15 PM

Saturday:

11:30 AM - 10:15 PM

Sunday:

11:30 AM - 10:15 PM

Takeout

Monday:

11:15 AM - 10:15 PM

Tuesday:

11:15 AM - 10:15 PM

Wednesday:

11:15 AM - 10:15 PM

Thursday:

11:15 AM - 10:15 PM

Friday:

11:15 AM - 10:15 PM

Saturday:

11:30 AM - 10:15 PM

Sunday:

11:30 AM - 10:15 PM